As a member in the domestic grain and oil industry, Yihai Kerry adheres consistently to the guiding ideology of leading the sustainable development of the grain and oil industry by science and technology, and commits itself to the scientific and technological innovation in the grain and oil field. It has innovatively developed the new industry models including "soybean recovery economy" and "rice recovery economy", etc. after years of R&D and exploration, which convert in situ, process and add value to the raw grain to drive the transformation of the traditional agriculture from primary processing to the high value-added intensive processing, from traditional processing technology to high technology, and from resource-consuming type to efficient utilization type, and enable projects to have wider industrial fields, higher additional value and longer industrial chain. Those new industry models not only save energy and protect environment, but also can bring tangible benefits to the peasants, and explore a benign road for the practical transformation of our country from a big agricultural country to an agricultural power, the development of agriculture, countryside and farmers, and the new rural reconstruction.
Processing of soybean
Heilongjiang Province is the province with the largest soybean covered area and biggest yield in our country and the non-GMO soy protein produced has high content and excellent quality. However, the whole soybean industry in our country has been in the trouble of no breakthroughs in recent years due to low comparative advantage of cost of domestic soybeans. Fostering strengths and circumventing weaknesses, and giving full play to the advantage of "non-GMO quality protein" of domestic soybeans, Yihai Kerry has established soybean deep processing bases in Heilongjiang and Hebei, etc. and developed a series of high value-added soy protein products by taking excellent domestic soybeans as the raw material and applying the advanced processing technology. The deeply processed soybeans can be produced into 203 products finally under the "soybeanrecovery economy pattern", to make full use of the advantage of domestic soybeans.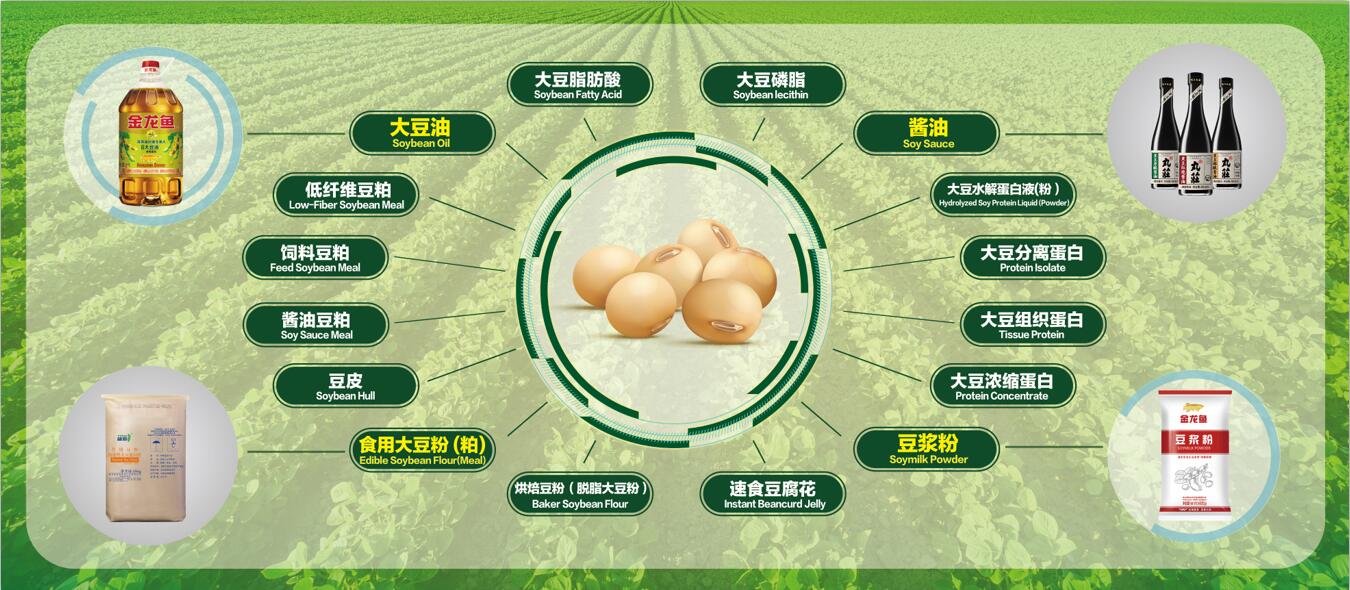 Sustainable multi-stage processing of rice
In Year 2006, Yihai Kerry established the first rice processing base in China's Heilongjiang Jiamusi. Since then, Yihai Kerry is determined to conduct in-depth analysis and research into rice processing. Research shows that only by developing the recovery economy with "transformation and upgrading, three industries integration, comprehensive utilization and environmental friendliness" can China's rice processing industry blaze a longer and broader path forward. Yihai Kerry has pioneered the world's leading rice recovery economy pattern after years of dedicated R&D:
Make enterprises, and peasant households and agricultural cooperatives a community of interests, enable the organic integration of primary, secondary and tertiary industries, and increase farmers'income and benefit enterprises, through good varieties and contract farming;
The intensive processing with the "least waste of useful materials" not only makes sure the energy conservation and environment protection in the whole process of rice processing, but also enables the full development and utilization of the resource value of rice, thus to realize the transformation and upgrading of rice processing industry. The diagram and interpretation of the ricerecovery economy of Yihai Kerry are as follows:
(1)Process the branded quality rice based on quality raw materials, to increase the premium;
(2)Generate power by using rice husks, the main by-product, which can completely replace fossil fuel to save energy and reduce emission of pollution gases like sulfur dioxide. Extract white carbon black, activated carbon and polysilicon, etc. by utilizing the rice husk ash, without discharge of residues or waste;
(3)Extract the rice bran oil with high nutritional value by using the other by-product: rice bran, with the rice bran meal to be further deep processed to the raw and supplemental materials of many food and health products.
Calculated according this pattern: about 2.20 million ton of rice bran oil can be produced if all the about 190 million ton of rice bran from the processing of rice in the country is used for oil extraction, amounting to saving 110 million mu of soybean cultivated land for the country; if all the rice husks in the country can be used for power generation, they can replace 22 million ton of standard coal, generate 20 billion kilowatt hours and correspondingly reduce emission of 300 thousand ton of sulfur dioxide.
Yihai Kerry's rice recovery economy pattern won First Prize in Science and Technology Awards by Chinese Cereals and Oils Association in 2010.